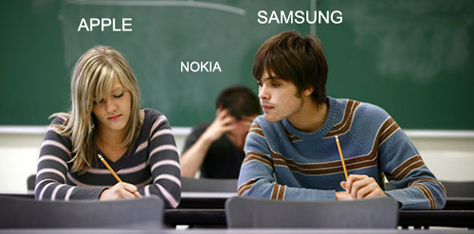 30 Jan

WHY SAMSUNG AND NOT NOKIA?

The biggest fight currently is between Samsung and Apple, however once in power among mobiles, NOKIA, is nowhere in the picture when it comes to smart phones. So let us see what has made SAMSUNG the most preferred choice over the conventional favorite NOKIA.
The following are the various reasons why consumers prefer Samsung over Nokia:-

1. Mobiles with dual SIM:
Samsung launch dual SIM mobiles in an era where the consumer preferred dual SIM card mobiles over the single SIM mobile phones. Nokia also launched dual SIM card phone but they were pretty late. By that time, Samsung had already established their dual SIM market and it became very difficult for Nokia to catch-up.

2. Integration of Basic Features:
Samsung attracted people with its wide range of very basic features like VGA Camera, FM, Color Display, Ring Tones etc. Samsung targeted that stratum of the society which was more interested in the basic features rather than reliability whereas Nokia phones are still supposed to be the most reliable. Even today, Nokia did bring in features to attract the consumers but then Samsung had already established its trust in the minds of the people and the consumers thus find it hard to betray Samsung now.

3. Battery:
Battery life has been the greatest strength of Nokia. Even today, Nokia's battery life has no competition. However, Samsung has done quite a good job over the years when it came to the battery life and has thus tried to come at par to Nokia's battery life, which has worked in the Korean giant's favor.

4. Smartphone:
We live in an age where all of us are very tech savvy. Samsung adjusted itself to this tech savvy population and launched the Galaxy series and seeped into the Smartphone world. Samsung thus incorporated the popular Android Operating System by Google and Nokia stuck to Windows OS. The consumers very well got connected to Samsung's BADA system, then the Android system and even to the Windows Operating System. Such wide range of products gave users their desired options while making the purchase.

5. Looks:
Samsung did a lot of research with the looks of their phone. Samsung came up with amazing looks for their Smartphones whereas Nokia carried on with their conventional look without improvising much. Ultimately Samsung "Wowed" the people with its gorgeous and slim look for their Galaxy series.

6. Price:
As per studies being done, there are two types of people; first who would go for very less price and the second who wouldn't really care about the price and would prefer good features. Samsung were successful in satisfying both these type of people by providing lot of basic features at a very low price while for the other type who didn't care about the price, Samsung introduced Smartphone series with a wide range of products so that people could then make their choice quite easily. Nokia was stringent on the price level; they did not want to neglect the quality by compromising on the price. This again worked in the favor of Samsung.